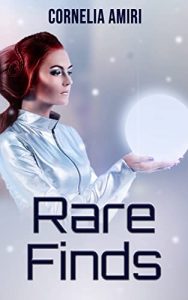 Is archeology the sexist profession in the universe? Just ask the Irish Goddess of Beauty and Brightness—Niamh.
Earthman, Robbie McGreggor, eager to get down and dirty on digs at the far corners of outer space, lands on a remote planet, and is shocked by the alien culture he encounters—the gods of Irish mythology.
When the chief god, Dagda, uses his powerful magic to hold Robbie at his mercy, Niamh helps him escape. She makes her getaway by jumping aboard the shuttle with Robbie. But not before Dagda puts a curse on the immortal beauty.
What's a cursed goddess to do?
Team up with the mortal nerd, of course. And heat up the galaxy—uncovering alien artifacts as well as a passionate allure for Robbie…while she tries to answer the big questions:
What dangers await?
Can she break the curse?
And will they survive?
If a helping of original Star Trek meets Merlin plus a pinch of comedy and generous dashes of spice whets your appetite, then take a ride on the Starship Celestial with Niamh and Robbie. $2.99 on Kindle.