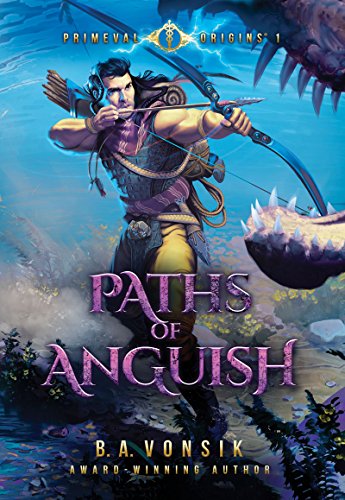 A YA Science Fantasy Epic Saga like no other! An adventure-filled Epic Fantasy / Sci-Fi series winning 35 literary awards and honors! She scoffs at the legends of long-ago civilizations. He grew up battling deadly dinosaurs. When their lifelines intersect, can Nikki and Rogaan survive humanity's genesis and the deliverers of Providence in our apocalyptic end-times…the Four Horsemen…in the ancient battle for our human souls?
A dystopian action and adventure saga written for teens, young adults, and adults of all ages to enjoy exploring the fantastic worlds and moral themes of the Primeval Origins® book series. A story 65 million years in the making; Book winning 7 literary awards and honors!
Primeval Origins: Paths of Anguish (*****Book Series 1)
AWARD-WINNING:
Winner – Young Adult Book of the Year, 2014/2015 Reader Views Literary Awards
Finalist – Fantasy Book of the Year, Readers Favorite 2016 Book Awards
Finalist – Fantasy Book of the Year, 2016 International Book Awards Distinguished
Distinguished Favorite – Epic Fantasy Book of the Year, 2017 Independent Press Awards
Winner – Fantasy Book of the Year, 2017 New York City Big Book Awards
Winner – Science Fantasy – Winter 2018 Pinnacle Book Achievement Award, NABEWinner (Silver) – 2021 Literary Titan Book Awards
Bolivia, 2080s. Nikki Ricks dedicates her life to scientific truth. So, when the book-smart graduate student discovers a perfectly preserved blue-steel sword among the fossilized bones of a Cretaceous-era dinosaur, she struggles to accept what should be an anachronism. And when the ground gives way, she finds herself plunged into the memories of a prehistoric young man.
65 million years BC. Rogaan yearns to claim a place among his tribe's heroes. Already a skilled archer and metalsmith, he chafes at his father forbidding him from his planned foray into adulthood by joining the town hunt. Defying his family's command and going anyway, the brash would-be warrior reveals a forbidden weapon… and draws the attention of an assassin.
With Nikki torn between her physical body and her metaphysical mental journey, she grapples to hold on to the logic of reality… despite a fierce conviction that a mystical doomsday is looming. And as Rogaan fights to dodge death from a powerful sect, he realizes the world is more complex and dangerous than his wildest imaginings.
Are the tangled senses of this strange pair fated to bring about the end of mankind?
In this meticulously researched tapestry of legends, B.A. Vonsik entwines humanity's mythologies, genetic & cybernetic discoveries,and religious wisdom into a seamless whole. Cleverly contrasting modern invention with ancient knowledge, this award-winning series will leave you breathless and questioning as you delve into its intricacies. If you like prehistoric heroes, deadly dinosaurs, brutal beasts, ancient gods, fast-paced thrills, hidden truths, and heroic hearts then you'll love B.A. Vonsik's apocalyptic legend. $4.99 on Kindle