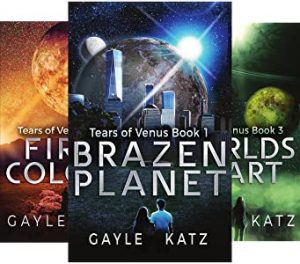 A government secret threatens all life on Earth. Can one scientist get off the ground to save humanity and herself before doomsday?
Charlotte Miller never backs down from a challenge. Haunted by her astronaut mother's disappearance on a decades-old exploratory mission to Venus, the distraught scientist will do anything to find out what happened to her. When data surfaces that points to a global calamity, Charlotte is desperate to follow in her mom's footsteps to solve both mysteries.
Taking matters into her own hands, Charlotte accepts a top-secret presidential assignment to track down her mother. Partnered up with experts to save the global population, she hopes to find a new home before the deep state stops her and humanity is rendered extinct.
With the world's fate sealed, can this determined daughter rescue everyone? Or will she witness the destruction of everything she holds dear?
From $0.99 to $3.99 each on Kindle.